MECALAC 9MWR GREENJOB VOOR VALLEI EN VELUWE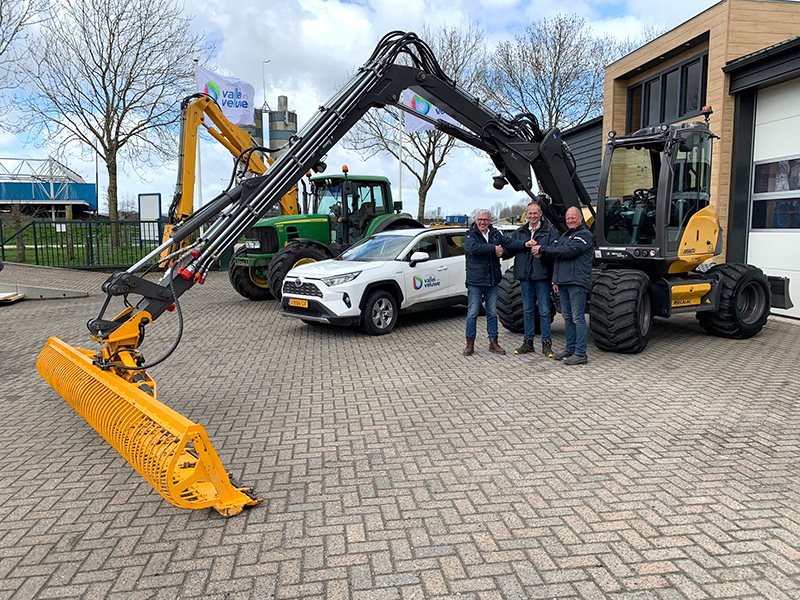 De heer Theo van Wegen nam onlangs namens Waterschap Vallei en Veluwe de sleutels voor een nieuwe Mecalac 9MWR GreenJob in ontvangst. Fred Franken leverde de machine af op de vestiging in Baarn.
Mecalac 9MWR GreenJob
De Mecalac is voorzien van een maaiarm en wordt ingezet voor het reinigen van sloten en bermen. Met het oog op de veenachtige bodem in het werkgebied van het waterschap hebben ze uitdrukkelijk voor een 9MWR gekozen. Een ultrastabiele machine, goede gewichtsverdeling en minimale bodemdruk zijn essentieel voor dit soort werk. Ook de XS-afmeting is hierbij een groot pluspunt.
Uitrustingsstukken
Aan de Herdergiek kan naast de 4,30 meter maaikorf of een baggerpomp naar keuze ook een baggerbak met kantelfunctie, palletvorken of een sloop-/sorteergrijper gemonteerd worden.