Ahlmann AZ 75f voor Stratenmakersbedrijf Smulders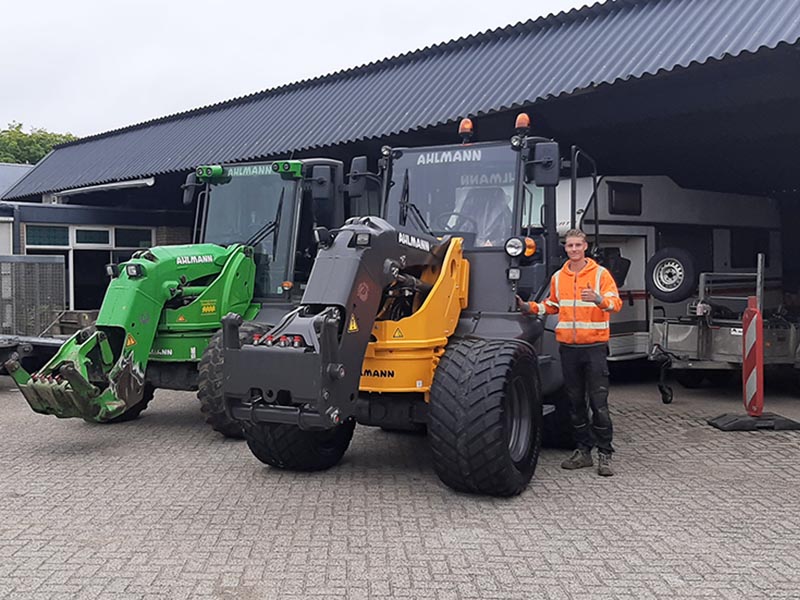 Vanuit het Brabantse Berlicum voert Stratenmakersbedrijf Smulders diverse bestratingsprojecten uit. Smulders is een stratenmakersbedrijf in hart en nieren met passie voor het vak en is er trots op om elke dag weer een mooi stukje straatwerk op te leveren. Naast het handmatig bestraten doet Smulders BV ook veel aan het ontwikkelen van allerhande toepassingen voor het machinale straatwerk. Het bedrijf werkt voor zowel particulieren, bedrijven als gemeenten.
Smulders bv is niet graag afhankelijk van derden en beschikt daarom over eigen personeel en materieel. Daardoor kan altijd snel en efficiënt te werk worden gegaan.
Ahlmann Zwenklader AZ 75f
Om het materieel up-to-date te houden mocht machinist Harm Smulders, uit handen van verkoopadviseur Kees van den Bogert, de sleutels in ontvangst nemen van een nieuwe Ahlmann Zwenklader AZ 75f.
Juist in het straatwerk is de zwenk van toegevoegde waarde. Zo kan al achteruitrijdend te egaliseren zand of puin vanaf de trottoirband naar binnen worden getrokken, of al rijdend met gezwenkte arm zand achter trottoir- of opsluitbanden verdelen. Door de 180° zwenkbare arm, in combinatie met de vierwielbesturing, is manoeuvreren op krappe plekken dan ook geen enkel probleem.
De 6,5 ton wegende AZ 75f is uitgerust met een 75 pk (55,4 Nm) sterke Deutz, watergekoelde, turbo dieselmotor met intercooler, type TCD 2,9 L4 en is voorzien van een diesel oxidatiekatalysator (DOC) en roetfilter. De machine voldoet daarmee aan de stage V emissienorm.
De machine werd o.a. voorzien van brede Nokian 560/45 R22,5 voor een lagere bodemdruk, schop- en bezemsteun, een tweede zwaailamp en extra werklampen.